Sinotec celebrates 25 years of technological excellence in SA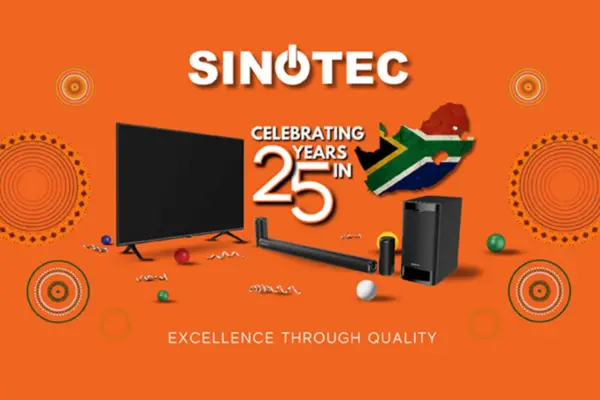 Tech giant Sinotec is celebrating its 25th anniversary in South Africa this year. 
John Goosen from Sinotec the milestone not only reflects the brand's commitment to innovation and quality but also highlights the trust and loyalty it has earned from the South African market over the years.
For a quarter of a century, Sinotec has been at the forefront of the tech industry in South Africa, delivering high-quality televisions and innovative solutions to consumers and businesses.
First facility
It was back in 1998, while the rest of the world contemplated the new millennium, and Y2K looming, that Sinotec's first facility was built in Midrand.
"Back then, we were already thoroughly aware of what the future held," Goosen adds.
One of the key factors behind brand's enduring success has been its commitment to making technology accessible and affordable to all.
Contributions
As a brand deeply rooted in South Africa, Sinotec has made significant contributions to the local economy.
The company has invested in local manufacturing facilities, creating job opportunities, and contributing to the growth of the manufacturing sector in the country.
"While Sinotec's origins may stem from China, our roots are firmly planted in South Africa as a leader in the value for money consumer tech sector. Now, with a 25-year history in the country, we believe we are as much a local as any other," explains Goosen.
The future
Sinotec's vision for the future encompasses continued innovation and the ongoing pursuit of excellence in delivering value to its customers.
As South Africa looks to the future, Sinotec remains an integral part of the country's technological landscape, driving innovation, and shaping the digital transformation journey for years to come.
"As one of the leading technology manufacturers in the country, we pride ourselves on offering televisions that deliver an excellent viewing experience for significantly less than our competitors.
This is just one of the reasons why Sinotec is a top brand in South Africa, standing firmly behind the country and its people by offering more for less," Goosen said 
ALSO READ: VodaPay launches new Deposit and Send Money services