WATCH: Huawei wows with new P60 Pro and foldable Mate X3 smartphones
Huawei unveiled the much-anticipated smartphones during a spectacular launch at the newly built Atlantis The Royal in Dubai on Wednesday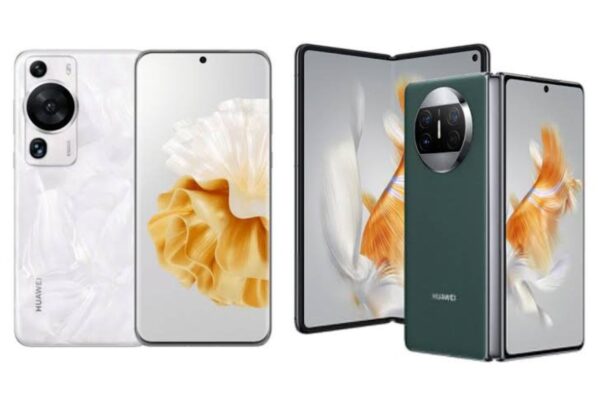 Tech giant Huawei has taken innovation to the next level after launching a series of new products, including the flagship P60 Pro and the foldable Mate X3.
Huawei unveiled the much-anticipated smartphones during a spectacular launch at the newly built Atlantis The Royal in Dubai on Wednesday. 
Pablo Ning, President of Huawei Consumer BG, Middle East and Africa, said the company is thriving on innovating new products.
Watch the video of the new Huawei P60 Pro
"Even though our road ahead is still full of challenges, our investment in innovation will not change, nor will our determination to continue developing the Middle East and African markets.
"Huawei will never give up overseas markets and we remain committed to high-end global brand building. With all these flagship devices available locally, we are keen to provide the industry-leading and intelligent user experience to our customers," Ning said.
Huawei P60 Pro
Design
Huawei says the P60 Pro mobile phone is a "meticulously crafted design masterpiece" that caters to photography enthusiasts.
"Inspired by 18th century French art, its one-of-a-kind Rococo Pearl colourway exudes elegance and beauty with a unique texture derived from natural mineral pearl powder."
A more basic black is also available.
Set into a chromed metal frame, the holographic white pattern has real wow factor, glistening in the light and doing a convincing impression of genuine pearls.
Huawei said every single phone has a unique pattern and The Citizen checked with other journalists at the launch and couldn't spot any duplicates.
Display
The Huawei P60 Pro has a 6.67-inch LTPO OLED display and it's stunning. It's a quad-curve display that sees all edges flow into the frame
Protecting the screen is Huawei's own Kunlun Glass, which is said to have ten times improved drop resistance to a non-Kunlun equivalent.
Hardware and battery
The Huawei P60 Pro runs on the Qualcomm Snapdragon 8+ Gen 1 chipset, supported by either 8GB of RAM and 256GB of storage, or 12GB of RAM and 512GB of storage and there is no microSD support for storage expansion though that's not uncommon for flagship devices these days.
The Huawei P60 Pro features a 4 815mAh battery and comes with 88W SuperCharge wired charging.
The bundled power brick can deliver a full charge in just under an hour while it also plays nicely with Qi wireless charging pads.
The P60 Pro also features dynamic 60-120Hz refresh rate.
Cameras
The camera capabilities of the Huawei P60 Pro really stands out.
There's a triple rear camera with three RYYB sensors on board, along with the company's XMAGE branding, which Huawei previously said is the goal of making a recognised brand within the photography industry.
The main sensor is a 48-megapixel sensor with an auto-adjustable physical aperture between f/1.4 and f/4.0, High Transmittance Lens Group and optical image stabilisation (OIS).
Sitting alongside the main sensor is a 13-megapixel ultra-wide sensor with an f/2.2 aperture, as well as a redeveloped 48-megapixel telephoto camera with f/2.1 aperture and OIS.
Pricing and availability
South African pricing and availability is expected to be announced soon.
Huawei Mate X3
Huawei said the Mate X3 is a big-screen foldable smartphone that sets a new standard for slim and lightweight design among foldables.
"It is the world's thinnest and lightest foldable smartphone, with a thickness of just 11.08mm while folded and 5.3mm while unfolded.
Huawei said the phone achieves breakthrough weight reduction through the industry's unique ultra-light and strong aluminium and ultra-light carbon fibre. "Besides, the rounded, quad-curve body offers an unparalleled comfortable and smooth grip."
The phone is also incredibly lightweight, weighing just 239g.
Design
Besides, the rounded, quad-curve body offers an unparalleled comfortable and smooth grip.
This phone also makes some big breakthroughs in durability with its Kunlun Glass exterior screen and impact-resistant foldable interior screen.
As for the rest of the design, the Huawei Mate X3 is now water-resistant – with the IPX8 certification that means the Galaxy Z Fold 4 finally has a noteworthy competitor.
It's also worth mentioning that the Mate X3 is equipped with what Huawei called a "cross-hinge graphene cooling system", which has been designed for greater heat dissipation
Display
Since the Huawei Mate X3 is a folding phone, it offers not just one, but two displays and both are impressive in their own right.
Each OLED panel offers a 120Hz refresh rate, with a 6.4-inch cover screen with a 2504×1080 resolution (and a 20.9:9 aspect ratio).
Pop the phone open, and you're greeted with a 7.85-inch display with a 2496 x 2224 resolution and a 'so-close-to-square' aspect ratio of 8:7.1.
The Mate x3 is intended to be more flexible, and allow for a flatter open display, but it also lets the phone be propped open laptop-style, for video calls and selfies.
Huawei has said the Mate X3 is equipped with what the company is calling an Intelligent Light-Sensitive Display, designed to deliver a consistent viewing experience across different environments.
Watch the video of the Mate X3
Hardware and battery
The Mate X3 runs on the Qualcomm Snapdragon 8 Plus Gen 1 chipset, the same silicon found in the P60, with the 4nm chip paired with 12GB of RAM.
Power comes from a sizeable 4 800mAh battery, with 66W wired charging and 50W wireless charging when you need to top it up.
Once the battery hits 1%, Low-Battery Emergency Mode can eke out 12 minutes of call time, or three hours of standby.
Cameras
With the Ultra Vision XMAGE camera, the Mate X3 also offers solid photography capabilities.
The camera triple camera is set in a rectangular in its layout, rising from the chassis on a circular bump.
The back snapper is impressively powerful, with a 50MP f/1.8 main camera. There's also a 13MP ultrawide with an f/2.2 aperture and a 12MP telephoto that uses periscope lenses to reach 5x optical zoom in this relatively slim chassis.
The Mate X3 features an 8MP f/2.4 front camera (folded) and 8MP f/2.4 aperture (unfolded)
The usual accoutrements are included, too, with 4K video recording available at 30 or 60fps.
"The Mate X3 delivers an unparalleled blend of design, durability, and camera performance, offering users an unparalleled large-screen smartphone experience," Huawei said.
The Huawei Mate X3 which is expected to available in Black, Gold, White, Violet, Dark Green colour.
Pricing and availability
South African pricing and availability is expected to be announced soon.
ALSO READ: Huawei announces battery replacement campaign for South Africa