Samsung Electronics Unveils its ultra-premium Micro LED TV in South Africa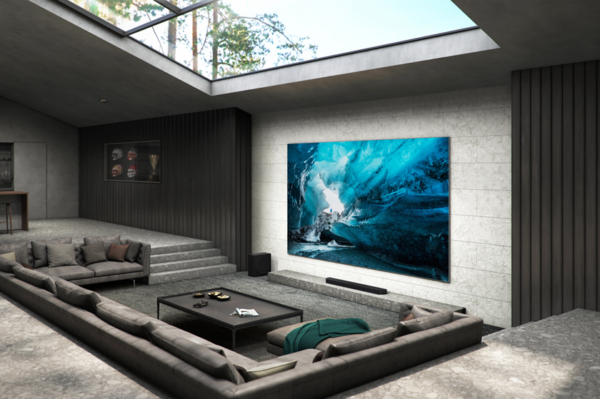 Samsung Electronics has unveiled its newest and ultra-premium Micro LED TV with prices ranging from R1.4 million up to R3 million, available in screen sizes from 76" up to 126".
Created from sapphire materials, this borderless, razor slim TV is impressive and offers exceptional sound quality while delivering a front-row experience that feels like you're sitting in a movie theatre or a concert hall, Samsung said.
Launch
The launch follows hot on the heels of the recent accolades where Samsung was named as the number 1 global TV brand for the 17th consecutive Year by market research firm Omdia.
Mike van Lier, Vice President of Consumer Electronics at Samsung said the company understands that TV entertainment is more exciting when it's involving and more cinematic.
"The Micro LED TV heeds that call in exceptional fashion. With its innovative take on what's possible, it stretches viewing possibilities to grander levels."
The 110" ultra-premium home cinematic product was unboxed and installed at the Cinema Architects lifestyle and high-tech experience centre in Sandton as a result of a partnership with the company.
Features
Samsung said the Micro LED offers 25 million micrometre-sized LEDs that individually produce light and colour, creating an immersive experience through impressive depth, vibrant colours and a heightened level of clarity and contrast.
"The Micro LED Is available in the size formats 126", 114", 110", 101", 89" and 76"."
In addition to the hardware innovations, the Micro LED supports 20-bit greyscale depth. This means Micro LED models can express every detail in a scene, offering the finest control with over 1 million steps of brightness and colour levels, delivering a true HDR experience.
It also expresses 100% of DCI and Adobe RGB colour gamut, resulting in stunning, lifelike colours. Together with the immaculate design made possible by its 99.99% screen-to-body ratio, Micro LED delivers revolutionary performance.
The Micro LED comes packed with enhanced usability and customisation featuring different modes.
Art Mode
Allows consumers to turn any room into an art gallery as they can select and display their favourite artwork or digital photography.
Multi View
This mode allows users to view content from four different sources simultaneously – from any or all of the four HDMI ports – in pristine 4K resolution at up to 120fps.
Dolby Atmos
Delivers a premier audio experience with top, side and bottom channel speakers for breath-taking, multi-dimensional sound.
Smart Hub and Apps
Samsung's Smart TVs come with a new Smart Hub that puts content curation and discovery front and center with their viewing preferences.
The new Smart Hub will guide users to their favourite content or help them discover something new all while spending less time searching.
The Smart Hub's sidebar also allows for a seamless transition between categories, letting users focus on various in-home activities.
NFT Platform
This application features an intuitive, integrated platform for discovering, purchasing and trading digital artwork through Micro LED together with Neo QLED and The Frame TVs.
Smart Calibration
This feature allows users to fine tune the settings for optimal picture quality. Basic mode features a quick and easy way of calibrating the screens within 30 seconds, while Professional mode optimises the screens for pristine picture quality in about 10 minutes.