Huawei Smart Wearables Win 16 Awards at MWC 2023, Showcasing State-of-the-Art Products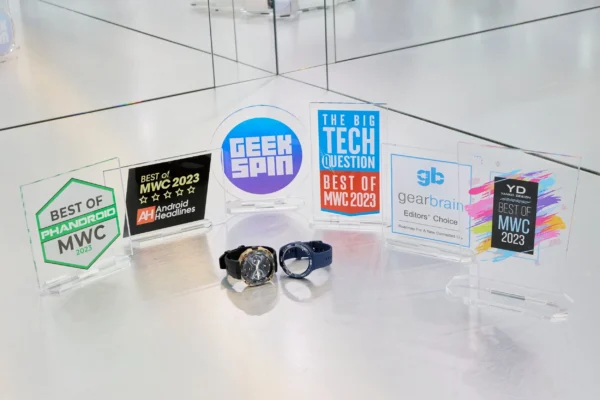 The Mobile World Congress (MWC 2023) was held earlier this month and showcased the best technological innovations of all time. At the event, HUAWEI wearables including the HUAWEI WATCH Buds and the HUAWEI WATCH GT Cyber attracted the attention of global media outlets and guests, by winning 16 media awards respectively for their state-of-the-art design and Quick-to-Change case. These awards reflect the global recognition of HUAWEI's expertise in wearables and the company's edge in the international market.
The most innovative wearable product— the HUAWEI WATCH GT Cyber won eight international media awards, cementing HUAWEI's position as a leader in the smart wearable field. Similarly, the HUAWEI WATCH Buds, an innovative two-in-one watch-earbuds hybrid, also won eight awards.
The HUAWEI WATCH GT Cyber: Technological innovation in fitness and health
Designed for fashionistas the HUAWEI WATCH GT Cyber features a unique setup that allows users to change their watch cases to a style of their choice, setting a standard for hardware innovation and cross-industry integration.
Various reviewers spoke highly of the products stating that "the HUAWEI WATCH GT Cyber face pops straight out of the case, ready to be transferred into a brand-new chassis."
The HUAWEI WATCH GT Cyber is the first-ever watch to feature a detachable smart device body, making it quick and easy to switch between cases so that users can rock their personal style with confidence. The GT Cyber has more than 100 workout modes including professional modes like running, cycling, swimming, and skiing, as well as personalised modes such as street dance, boxing, skateboarding, and parkour.
Furthermore, the HUAWEI WATCH GT Cyber is equipped with some of the best health-monitoring technologies that HUAWEI has to offer, such as around-the-clock monitoring of your heart rate, SpO2, stress levels, and sleep quality. The sleep monitoring feature can identify your sleep types, detect sleep problems, and provide suggestions to help you improve the quality of your sleep.
The HUAWEI WATCH Buds: Blurring the boundaries between smart watches and earbuds
The HUAWEI WATCH Buds stole the show with its 2-in-1 cutting-edge experience, which guests gathered to try out.
Forbes highly praised HUAWEI's trail-blazing HUAWEI WATCH Buds and expressed that " the idea behind this remarkable innovation is that you'll never be without your earbuds, and when you're done listening, you can avoid losing them in a pocket, as they can pop straight back into the watch where they can charge."
As the industry's first smartwatch with a magnetic pop-up cover and earbuds design, the HUAWEI WATCH Buds merges the TWS earbuds and smartwatches into a nifty wearable and solves the problem of forgetting or losing TWS earbuds during daily use. The earbuds support Adaptive Identification Technology which auto-corrects the left and right audio channels when wearing, and intelligently adapts the best sound quality for different ear canal structures in real time, which allows guests to enjoy great music at their own pace. The wide-area auricle touch controls allow guests to access multiple functions by just tapping their ears, enabling wider range and more accurate touch recognition.
In addition, thanks to the wide-area auricle touch controls you can quickly and accurately access multiple functions. The HUAWEI WATCH Buds also come with powerful health monitoring features, as well as over 80 workout modes, 10 of which are professional modes.
HUAWEI continues to reimagine user experience, through its leading product that injects vitality into the smart wearable market. As a pioneer in the smart wearable and audio industry, HUAWEI is committed to leading industry innovation with its advantages in novel product forms, technologies, and experience.