[WATCH] Suzuki S-Presso S-Edition Review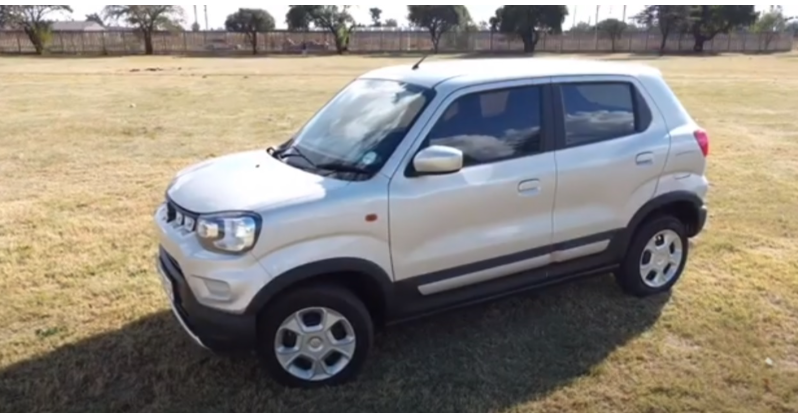 The Suzuki S-Presso which hails from India, has been tremendously successful in the subcontinent.
When I received my test unit from Suzuki South Africa, I was impressed with the styling which I can describe as unconventional, but nonetheless appealing.
In S-Edition guise which I tested, the S-Presso boasts design elements such as wheel-arch cladding, side body-cladding, silver upper-grille garnish and a front skid plate.
Under the bonnet Suzuki S-Presso is driven by a compact 3-cylinder, 1.0-litre petrol engine producing 50 kW and 90 Nm of torque and drives the front wheels via a 5-speed manual gearbox.
With a kerb weight of just 770 kg, the little 1.0 S-Edition feels surprisingly nippy and agile to drive with a light-action clutch and smooth manual gearbox.
The S-Presso is quite light on fuel. Travelling from my home in Lenasia South to Radio Islam studios in Lenasia claimed a consumption of 4.9 L/100 km which was impressive considering I only live about 11km away from work.
My main issue with the S-Presso is its raised driving position. Sitting in the drivers seat, my head was about ten centimetres from the roof and makes you feel as if you're sitting on the car. I wonder if I had been taller would my head have touched the roof.
Sadly there's no lever to lower the seat including no reach-adjustment for the steering column.
The cabin of the S-Presso is a fun and interesting with an air of youthfulness replete with colourful trim around the centrally-mounted instrument module and ventilation outlets.
I love a good dashboard and I was impressed with the tech on display. The Suzuki comes with a 7-inch infotainment touchscreen with Android Auto/Apple CarPlay connectivity and USB/12V charging ports, which is important for charging phones and other devices.
With a family of five including three kids who were also impressed with the S-Presso, luggage space of about 240 litres is impressive for a car this size. Having a spacious boot as many people call it is important for me because I always carry my press bag, while the kids also grab their toy bags as we journey to the mall for a bout of shopping or just visiting family.
The Suzuki S-Presso range starts at R149, 900 with the unit I tested costing R163 900. The new Suzuki S-Presso is sold with a 5-year/200 000 km warranty, 2-year/30 000 km service plan and 1 year's comprehensive insurance.
Overall I think the Suzuki S-Presso is a good deal for the price and is fun and funky city car that should delight first-time buyers.
Watch the video of the Suzuki S-Presso S-Edition Review