Polaris Program to Culminate in First Human Spaceflight on SpaceX Starship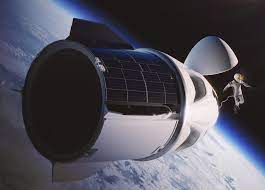 Founder and CEO of Shift4 Jared Isaacman has announced the Polaris Program, a first-of-its-kind effort to rapidly advance human spaceflight capabilities, while continuing to raise funds and awareness for important causes on Earth.
The program will consist of up to three human spaceflight missions that will demonstrate new technologies, conduct extensive research, and ultimately culminate in the first flight of SpaceX's Starship with humans on board.
The first mission, Polaris Dawn, is targeted for no earlier than the fourth quarter of this year and will be commanded by Isaacman, an accomplished pilot and astronaut who led Inspiration4, the world's first all-civilian mission to orbit that helped raise over $240 million for St. Jude Children's Research Hospital.
Isaacman said the Polaris Program is an important step in advancing human space exploration while helping to solve problems through the use of innovative technology here on Earth,
"On Polaris Dawn, we endeavor to achieve the highest Earth orbit ever flown in addition to conducting the world's first commercial spacewalk and testing of Starlink laser-based communication. Alongside these important objectives, we will be supporting scientific research to advance both human health interests on Earth and our understanding of human health during future long-duration spaceflights."
SpaceX's Falcon 9 rocket will launch the Polaris Dawn mission from Launch Complex 39A at Kennedy Space Center in Florida.
Dragon and the Polaris Dawn crew will spend up to five days in orbit, flying higher than any Dragon mission to date and endeavoring to reach the highest Earth orbit ever flown.