[WATCH] Samsung Galaxy Z Fold 3 – A Tablet in Your Pocket [REVIEW]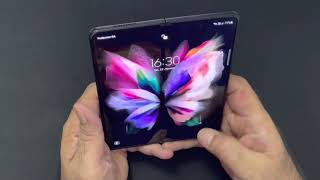 I must admit that the Galaxy Z Fold 3 has made my work as a journalist so much easier especially when it comes to breaking stories.
When a story break, I can take this phone, unfold a small tablet & write the story onto my website in a matter of minutes anywhere, from sitting in the car to walking In the mall.
Once done, it folds back into a phone and that's the amazing part because it just saved the need to carry a tablet. So, the Galaxy Fold is a tablet in your pocket, all you have to do is unfold it.
The Galaxy Z Fold 3 is Samsung's most attractive folding package to date.
This version of Samsung's foldable phone the Galaxy Fold 3 feels stronger than its two predecessors.
The design and hinge is solid on the Fold 3 and provides satisfying snap when opening and closing. While the unfolded orientation certainly grabs onlooker's attention.
One area the Fold3 has really impressed me is the screen and camera because both the 6.2″ HD+ cover and 7.6″ Infinity Flex displays make content bloom.
Reading content and watching videos in particular is enjoyable on the increased screen and Samsung's solution to the front facing camera punch hole where digital pixels overlay to create the illusion of an under the display selfie camera is definitely something that competitors will try to mimic.
Natural light and outdoor shooting in particular was a joy, with the 12MP ultra-wide, 12MP wide-angle and 12MP telephoto options all producing images that look crisp and detailed.
Samsung's stuffed in a 4,400mAh battery, which is smaller than you'll find in the Galaxy S21 Plus even though there's a whole lot more screen that needs powering here. It'll manage a day on a charge.
The other noteworthy aspect? Samsung's fitted its Fold 3 with an IPX8 rating — meaning it'll somehow survive a dunking in up to 1.5 metres of water for up to 30 minutes.
The Galaxy Z Fold 3 is best foldable phone yet, with a more durable design and S Pen support, and the multitasking features are even better. You need a case to store the stylus and the cameras are not upgraded, but overall the Galaxy Z Fold 3 is a great choice for power users.
The Z Fold 3 will be offered in three colours, black, green, and silver and will be available in South Africa starting from R37,999.
Watch the YouTube video here